Our Techniques
---
BOOTI
A motif (Usually circular or even asymmetrical motif) handwoven in all over pattern.
JAAL/JANGLA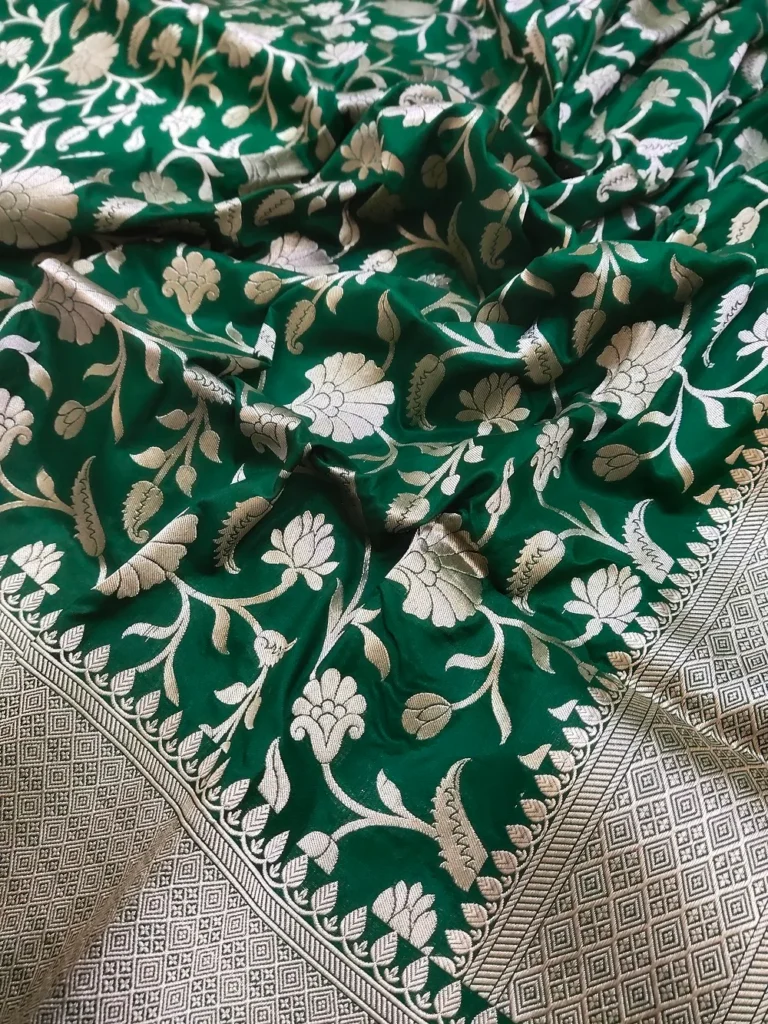 An all over floral or creeper pattern handwoven to create a rich and dense look.
KADHIYAL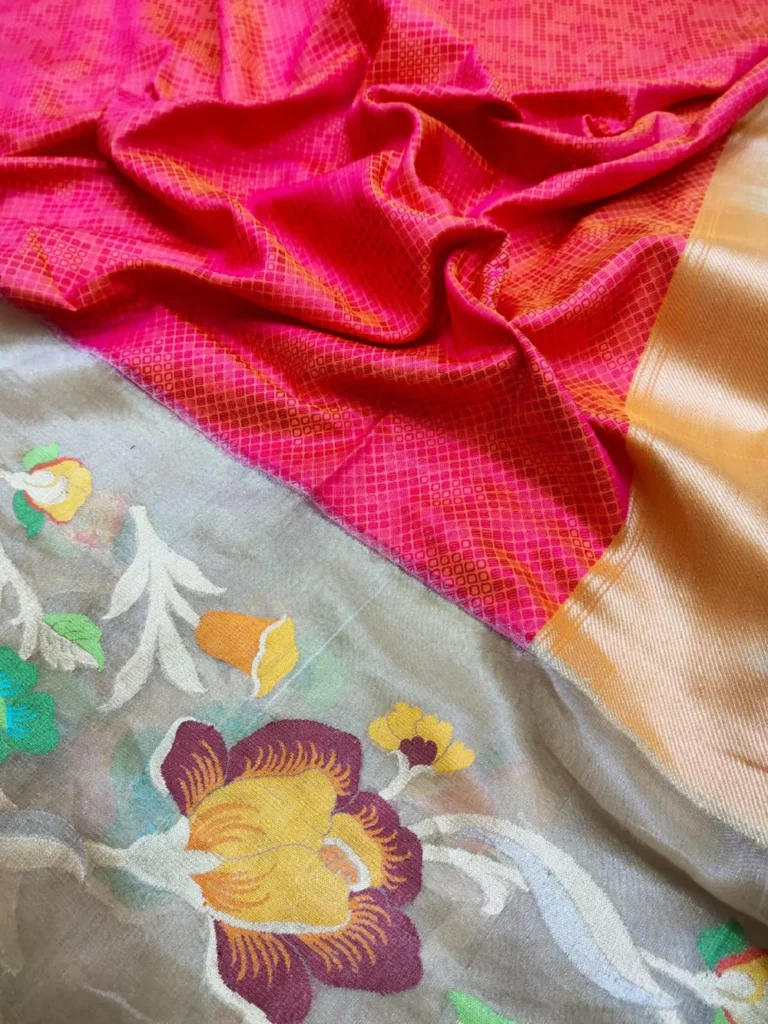 Now this is the most complicated weaving technique which no powerloom machine has ever been able to replicate. In this technique a weaver can weave two different natures of fabric in the same width. Kadiyal technique of weaving helps achieve a border in a different fabric or/and in a sharply contrasting color using multiple changes in warp and the weft shuttle.
KADHVA
The detailed and arduous Kadwa (Kadhua) technique involves hand-weaving each motif separately. It is a more time consuming process on the handloom, but it results into a more prominent pattern, which stands out on the fabric.
PAITHANI
In a paithani saree, some Popular pallu and border motifs include mor (peacock), bangadi mor (bangle with four peacocks and lotus), munia/ tota-maina (parrot-maina), Ajanta lotus.
SHIKARGAH
"Shikargah" designs are human or animal images especially in hunting postures very intrinsically woven into the fabric.
TANCHOI
Tanchoi is a handweaving technique involving a single or double warp and two to five colors on the weft which are often of the same shade, on Silk fabric. Another stand alone feature of the Tanchoi sarees is that the fabric texture background has a Satin finish. These sarees are extremely light weight and soft to drape.
Our Fabrics
Katan Silk – A soft and subtle fabric with a lustrous texture, Katan Silk is lightweight, purely made out of the finest quality of silk threads. This plain-woven fabric is created out of double twisted yarns of pure silk in warp and weft. Katan Silk is a preferred choice on a global scale.
Khaddi Georgette Silk – A blend of 50% cotton and 50% silk, Khaddi silk fabric is extremely lightweight. The textile is handwoven in chiffon tana (warp) and katan bana (weft). The yarn is hand spun which results into a natural texture. Khaddi silk has a lustrous surface.
Kora Silk – It is a light, sheer fabric which is also known to be as 'Banarasi Organza'. Kora Silk is produced from silk yarns that are not degummed. It results into a crisp and soft texture. In comparison with other silk fabrics, Kora Silk happens to be cooler and extremely feather-like, perfect for summers.
Tissue Silk – This fabric offers a sheen and lustrous appeal. It is produced by running zari in the structural weft of the fabric, along with any yarn in the warp. Golden and silver threads are employed during the weaving technique to create this translucent fabric.
Tussar Silk – It is also referred to as 'Kosa Silk' in Sanskrit. Tussar silk is yielded by worms that breed on local trees and not on mulberry trees. The textile has a very raw texture immersed in a natural deep gold color that remarks opulence. It is a fuss-free fabric.
Cotton – It is a soft and subtle, lightweight fabric which is also handwoven in the city of Banaras. Cotton is elaborately patterned in some of the most exquisite weaving techniques, like Kadhua and Jamdani by highly skilled weavers of the city.
Munga Silk – The fabric is woven from the Munga silk yarns which are extracted from gentle Munga silk worms found in the northern parts of India. This fabric is one of the most ancient silk materials. It is known for its natural yellowish-golden color and an incredibly lustrous texture.
Mulberry Silk – Mulberry silk is a special type of silk made by silkworms that are fed exclusively on leaves from the mulberry tree. This article describes why mulberry silk is the finest quality silk in the marketplace.